Trust the grip of the SureNail® Strip™
Our Most Popular Duration Shingles
There's a line between a good shingle and a great shingle.
It's the nailing line on your shingles. The difference between a good shingle and a great shingle is having SureNail Technology. With SureNail Technology, strength and durability are built into every Duration Series shingle, thanks to the unique fabric strip in the nailing area. This unique shingle design provides outstanding gripping power.
Patented SureNail Technology — Only from Owens Corning and featured on our Duration Series shingles.
Breakthrough Design — The tough-engineered woven-fabric nailing strip is embedded in the shingle to create a strong, durable fastener zone.
Triple Layer Protection®+ — A unique "triple layer" of reinforcement occurs when the fabric overlays the two shingle layers, called the common bond area.
Outstanding Grip — The SureNail strip enhances the already amazing grip of our proprietary Tru-Bond® sealant.
Exceptional Wind Resistance — The SureNail grip helps deliver 130-MPH wind warranty* performance with fewer nails than required by most competitors.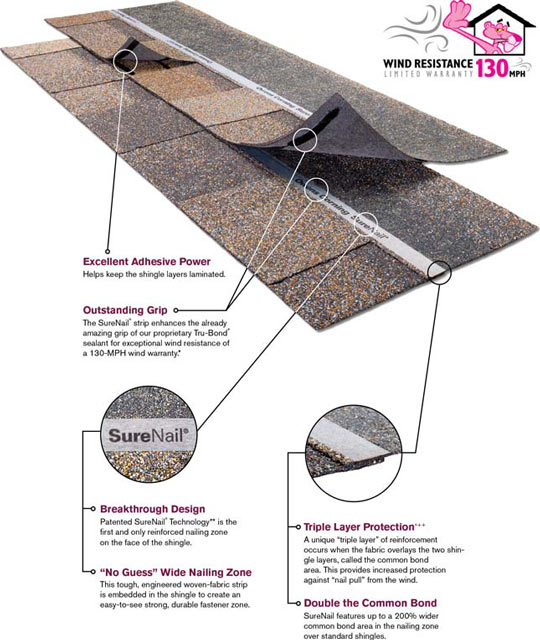 SureNail Advantage in Lab Tests
Simulated nail-pull demonstration to show a shingle's ability to stay on when high wind is trying to pull it off the deck.
SureNail® Technology is proprietary with U.S. and foreign protection including U.S. Patent Nos. 6,471,812; 7,836,654; 8,156,704; 8,181,413; 8,240,102; 8,430,983; 8,607,521; 8,623,164; 8,752,351; 8,991,130; 9,121,178; and other patents pending.